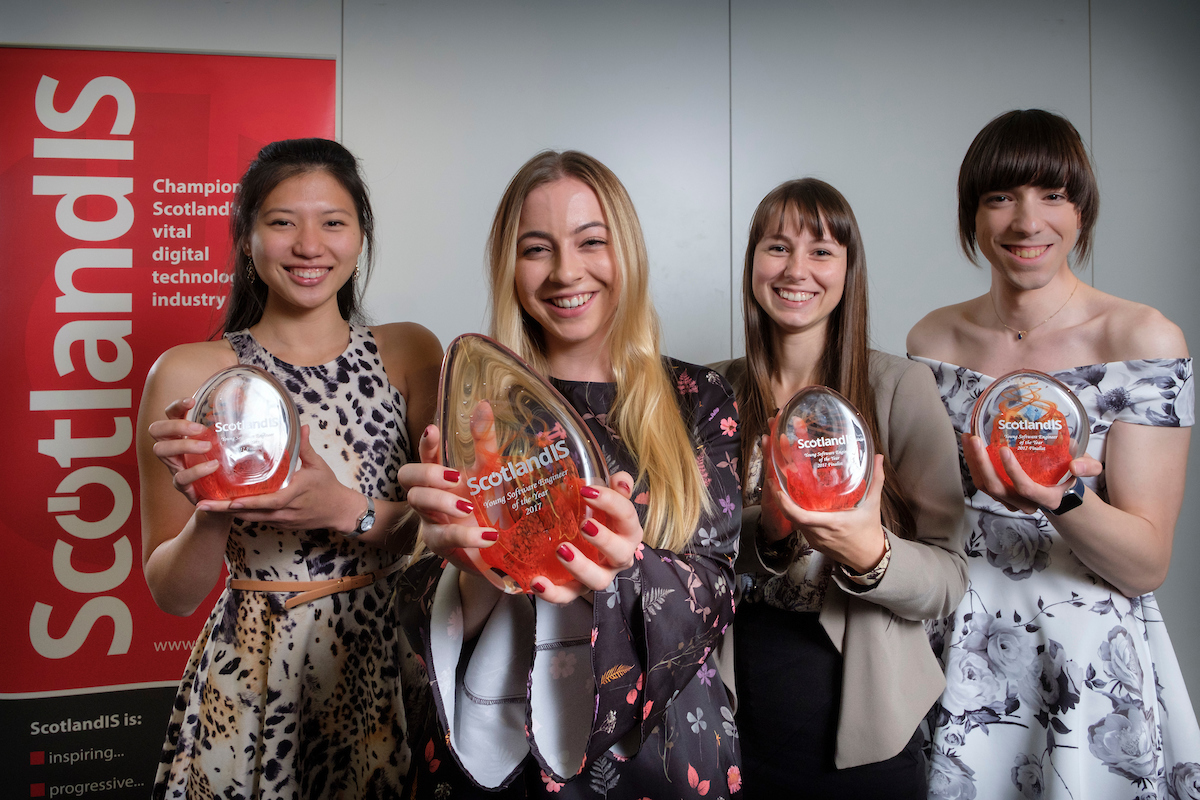 One of the greatest elements of ScotSoft is the recognition of talent and innovation that comes from the Young Software Engineer of the Year Awards.  The shortlisted projects are all drawn from final year students studying computer science and software engineering at universities across Scotland.
Last year we had an all-female line up of winners, this was not a nod to gender diversity (although the women involved are certainly fantastic examples of role models within the sector), but based only on the innovation, relevance and technical difficulty of their projects.  Judging takes place 'blind', our panel don't know the name of the creator or what University the projects come from.
Gala Malbasic from the University of St Andrews won the overall Young Software Engineer of the Year award in 2017, with a project that used sensors to replace complex keyboard sequences with gestures, using the whole surface of a laptop or tablet. Orisa Ngampakdeepanich from the University of Edinburgh was also recognised for her project developing an app to stimulate play-based learning for children with autism spectrum condition and Irina Camilleri from the University of Strathclyde, who won third place with a mapping technique for cyclists using sensor based crowd sourced data.
Amy Parent (Abertay University) was honoured with the Leidos Best Engineering Award for developing a reusable technology system for high-altitude balloon missions used by meteorologists and researchers.
Both our winners and potential employers find the Young Software Engineering of the Year Awards useful.  Graeme Smith, former winner and now Managing Director of Amazon Development Centre (Scotland) told us:
"I've seen the Young Software Engineer of the Year awards from both sides. The YSE award really helped me get attention from employers in the early stages of my career.
"As an employer, I'm proud to support the awards because it's important to recognise upcoming talent and it's been a great way for us to get introductions to these graduates, several of whom we have hired in the past."
Much like the conference, we always try to bring you someone a little bit different as our YSE After Dinner Speaker. In the past, we've had everyone from Kevin Bridges to Sir Chris Hoy and so this year, we're delighted to welcome former SAS operator and star of Channel 4's "Who Dares Wins", Colin Maclachlan – we hope you're all as excited as we are to hear his story!
If you're inspired to learn more about the Young Software Engineer of the Year Awards, or book a table or a ticket give us a call on 01506 472200.